"Mr. Tenniel is the only artist, who has drawn for me, who has resolutely refused to use a model, and declared he no more needed one than I should need a multiplication table to work a mathematical problem! I venture to think that he was mistaken and that for want of a model, he drew several pictures of "Alice" entirely out of proportion - head decidedly too large and feet decidedly too small."
-- From a letter by Lewis Carroll (pseudonym of Charles Lutwidge Dodgson)
Although the stories were written for and inspired by the brunette Alice Liddell, when it came time for Tenniel to create the illustrations, Carroll sent him a photo of blonde Mary Hilton-Badcock as his image of what Alice should look like. Early color illustrations of Alice show a girl with long blonde hair, wearing either a blue dress with a white pinafore, or a yellow dress with a blue and white pinafore.
Therefore, our challenge this month is to create something that is predominantly blue and yellow, the colors associated with Alice!
Although it is not required that you use Wonderland in your project, those that do feature Wonderland will receive two chances at the drawing instead of one!
Enter on The Altered Alice by Friday, April 22 at 8 p.m. Eastern Daylight Time (GMT -4:00)
and the winner will be posted sometime on Sunday, April 24.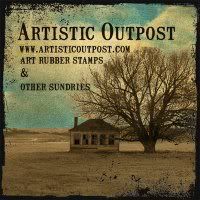 Our April sponsor is
Aritistic Outpost
, makers of fabulous rubber art stamp sets including the
Wonderland Collage set
that will be featured by our design team. The
Artistic Outpost design team
will be playing along as well!
One lucky winner will receive a $14 gift certificate to the

Artistic Outpost store

.
The Artistic Outpost's full line of vintage inspired art stamps are sold in unmounted themed collections.
All the unmounted sets are $14, so the winner will be able to select the set of their choice. They also offer several collections pre-cut and mounted on cling foam. Be sure to
visit their blog
for frequent udates, ideas, and inspiration from Artistic Outpost and their talented design team. I have used their stamps and the fine-line detail they are able to achieve in their rubber art stamps is truly outstanding!
This is my card that I made with the Artistic Outpost's fantastic stamps.
I will probably make it into a belated birthday card!
I think it has the perfect sentiment for it don't you. LOL
I love the way the colors turned out on the card. I used Copics with paper from the Bo Bunny's
Timepiece Collection. I used gold jelly roll pens around the clock faces. I didn't write down the Copic colors I used. Sorry!!!!
I used the gold foil tape around the rabbit to frame him and the sentiments are popped up on 3M foam mounting tape, which I colored with a brown Copic marker to help hide the tape. I really like the way it turned out.
This was a fun challenge I hope you have enjoyed it as much as I have.